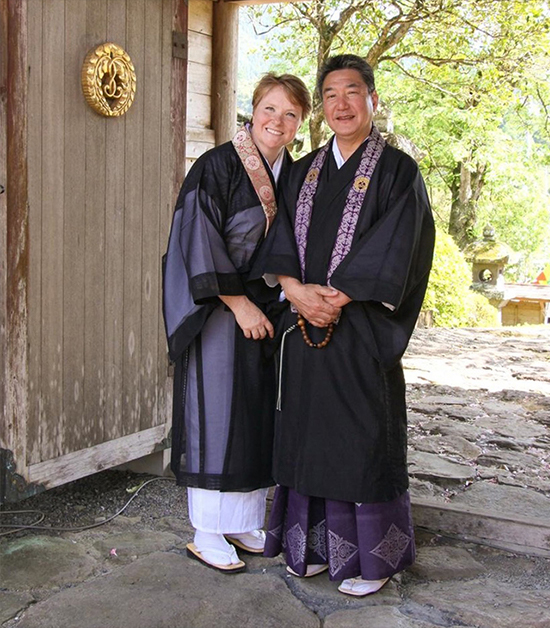 "I didn't think Buddhist priests could get married?!!" This is what many people exclaim when they first hear that I am married to the 17th generation head priest of a Buddhist temple in the mountains of Kyushu, the large island in the south of Japan. Well, yes, they CAN get married, in fact, Jodo-Shinshu (Pure Land) priests were the first Buddhist priests for whom it was okay to get married. The founder of the Jodo-Shinshu sect, Shinran Shonin, married his wife, Eshinni, after his exile from Kyoto (1207), so, strictly speaking he was not actually a monk when he married. He described himself as neither a monk nor a layman during his exile in what is now, Niigata prefecture. Shinran's teacher Honen said "People should always live be creating the proper conditions for being able to say the Nembutsu. If you cannot say the Nembutsu as a celibate, say it by getting married." Their marriage and belief in the nembutsu remained strong throughout their lives.
I met my husband in 1993, on my second year of the JET (Japan Exchange and Teaching) programme. I had already been living in this town, Takachiho, in Miyazaki Prefecture for a year, and I transferred from a job at the education office to a job at the local high school. His desk was next to mine in the staff room at school, and though he spoke no English and my Japanese, at the time, was very rudimentary, there was magic in the air and our relationship, cautiously blossomed.
There was a lot of opposition to our relationship. His family and some members of the local community were so strongly opposed to us as a couple that they actively tried to sabotage our communication. Though there is nothing in any Jodo-shinshu "rule" book that says their priest's cannot marry foreigners, the prospect of mixed-race children sullying the seventeen generation Yoshimura bloodline was one of the objections. This narrow-minded thinking was actually the total opposite to the actual stand-point of Pure Land buddhism, whose slogan at the time of our meeting and marriage was "Spread the nembutsu to all the children and grandchildren in the world".
After working through this opposition, and against all odds, we married on 10th June, 1995 and the whole town came out to celebrate. A live TV show was broadcast from our wedding reception and a helicopter hovered above to relay live images to the studio. Twenty-four years later, three children, much laughter and many more tears, later; we are still together, surviving and guiding our family and our temple and its congregation into an increasingly uncertain age. With the numbers of the local population in steep decline, a nationwide disinterest in the traditional religious practices and with my son and his wife starting their new lives at the temple from April this year, Shonenji has to evolve and reinvent itself to remain relevant in the lives and consciousness of our congregation and wider community.
Following the example of Shinran's wife, Eshinni and their daughter, Kakushinni, I want to be part of the process of nurturing and growing the Nembutsu community and to create a vibrant, welcoming temple and Lodge. We welcome people from all over the world, all races, all religions and beliefs to experience our home, our way of life, our beautiful town, here in the mountains of Kyushu, Japan.